Based upon a historical model
Perfect for reenactments or playing along with other instruments.
Several years ago, the D fife had become unavailable in the Fife and Drum world; Peeler Fifes was contacted to fill this void. Collaborating with a well-known fifer, historian and re-enactor, the Peeler "D" was created. The fife is based upon a historical model but is adjusted or tweaked for intonation and playability.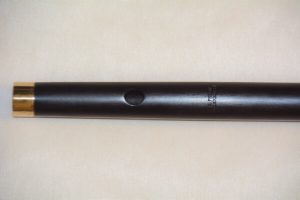 The fife is available in both Grenadilla (African Blackwood) and Mopane and comes standard with 0.40″ long brass ferrules. Other ferrule materials and styles are also available upon request. Not only are they are suitable for re-enactments, they perfect for playing along with guitar, banjo or fiddle. Please be advised: do not play in an enclosed area, such as a car, without ear protection.